ACHIEVING YOUR GOALS ON YOUR TERMS
We know choosing the right sound company can make or break an event, so we'd like to take that weight off of your shoulders. At Iowa Sound, our primary mission is to help you achieve your goals, on your terms, within your budget. By offering comprehensive services, we are equipped to guide you through the process of identifying your event's unique needs. As a result, together we'll be able to find the right solutions to carry out your vision.
WHEN YOU WORK WITH US, YOU GAIN A PARTNER IN EVENT EXECUTION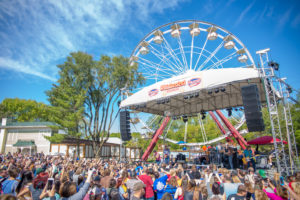 Iowa Sound has been in business since 1996. What started out as a DJ and equipment rental business has grown into a full-service production company offering superior sound, lighting, and staging rental.
When you work with us, you gain a partner in event execution. Our team is prepared to assist with every aspect of entertainment planning from staging to sound and everything in between. You will also find we continually reinvest in our sound and lighting equipment; therefore, you receive the newest top-of-the-line products.
Below are just a few of the services we offer:
Small to major concert PA and lighting systems (festivals, local and national artists, tours, theater, DJs)

Staging, including Apex Mobile Stages

Individual rentals (meetings, weddings, plays, parties, bands)

Sales and installation of sound and lighting systems (churches, fairgrounds, schools, stadiums, theatres, hotels, restaurants/bars)

Corporate events and audio-visual services (conventions, fundraisers, holiday parties)

System repair (tune-ups to major repairs)

Production planning and consultation
Take a look at Iowa Sound. We believe you'll be pleased with what you see – and hear!
"You guys are so professional and easy to work with.  I can't thank you enough for everything you and your guys do for the Classic." – Jim Stockberger National Balloon Classic
Contact Us today, for a free consultation. We'd love to discuss how we can partner together to make your event a success.